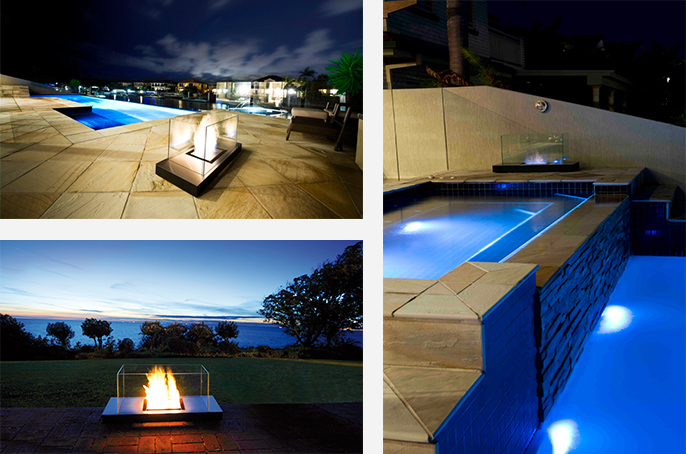 If you have a penchant for home renovation programs, chances are you've found yourself enamoured with some truly amazing fireplaces that you're envisioning as the centrepiece of your home.    
Ethanol fireplaces are generating a bit of a revolution right now. This is due largely to the fact that because they aren't bound by the limitations of traditional fireplaces, they can provide truly innovative aesthetics in modern interior design. But the growing interest is also due to the way they operate—because they are eco-friendly, safe, and pleasant to use, they are becoming an increasingly popular choice for homeowners who are focused on sustainable solutions for achieving contemporary living comfort.
Whether you're building or renovating, or you're looking for environmentally friendly heating options, ethanol fires can offer you some amazing benefits.
---
They won't fire up the health conscious
Perhaps the most distinct advantage of bioethanol fireplaces is that they don't produce smoke, ashes, or soot. This means that people sensitive to allergens can breathe easy – there's no dust and debris from chopping wood, and no smoke or ash to trigger respiratory problems.
---
Bioethanol fires burn denatured ethanol (known in Australia and New Zealand under the trade name of Methylated Spirits). An absolute alcohol derived from renewable materials.
---
Ethanol fireplaces use oxygen in the air to burn, so as long as there's sufficient air circulation in the room, they won't cause a problem. Denatured ethanol is also clean burning: it doesn't produce harmful emissions, so there aren't any chemicals to breathe in. If you're worried about how strong denatured ethanol smells in the bottle, have no fear: it's odourless when it burns, and when the flame is extinguished, there's only a slight scent similar to blowing out a candle, which dissipates fast.
Many people don't know that traditional wood-burning fireplaces cause lung, eye, and nose and throat irritation, and that they emit carcinogens and harmful compounds like carbon monoxide,nitrogen dioxide, and sulphur dioxide. So if you're serious about installing a fireplace, you should reconsider everything you thought you knew, and investigate the benefits of ethanol fires, which are fast proving to be a safer alternative.
---
They won't smoke out the environment
Because they don't consume energy like electrical appliances do, so you'll be able to enjoy smokeless warmth without the enormous bills or the carbon footprint—the cost of the fuel is a comparable to running other types of heaters, and you won't have the guilt of relying on electricity, or of pumping clouds of smoke into the atmosphere.
---
Denatured ethanol is a renewable resource, obtained from raw materials including sugarcane, potatoes, bananas, barley, corn and wheat.
---
It's also biodegradable, and the only emissions are water vapour and a small amount of carbon dioxide (around about the average of what we breathe out). In essence, bio ethanol fires don't take out of—or put into—the environment anything they shouldn't, so now your designer style doesn't have to come at the expense of a healthy planet.
---
They won't leave you out in the cold
If you've already considered other alternatives to traditional wood-burning fireplaces, and been disappointed by the 'fake' flames of electric fireplaces, you'll be pleasantly surprised by another advantage of ethanol fires.
Some brands and models will emit less heat and are primarily used for the ambient aesthetic they offer, but most will easily (and cheaply) deliver a comfortable warmth to even large spaces. There are also outdoor models available for delicious alfresco warmth, so you can entertain in comfort even in the cold months.
The size and capacity of the model, and the quality of the fuel used, will determine how much heat is generated; but generally speaking, ethanol fires are a truly efficient warming option. Because they have no flue, there isn't any heat loss as there is with a traditional fireplace, and all the heat they radiate is distributed into the space of the room. They are a great alternative to energy-gutsing electrical heaters, and won't punish you for warming your home by leaving you with a giant electricity bill.
---
You won't get hot under the collar installing them
Installing most models will require about the same amount of work as mounting a flat screen TV to the wall. And even if you're looking to build in a larger model as a feature or centrepiece to a renovation or new house, you'll be happy to know that even the most complex installations require a lot less effort than traditional fireplaces. There's no need for fuel lines or electrical wiring, and most models are totally portable, so you can move them around, or take them with you if you leave your house.
---
"No fuel lines or electrical wiring"
---
They are also very easy to use: you only need to fill the burner with fuel and light it, so there's no struggling with fire-starters and smoke. And unlike traditional fires, you can turn them off—you don't have to wait for them to die down, and the fuel that you don't use can be saved for later.
---
They won't burn a hole in your pocket
A lot of the cost involved in installing fireplaces is in building chimneys and flues, and applying for council permissions – bio ethanol fires do away with these expenses. There's virtually no renovations costs to account for, and installation usually won't need expensive professional services.
The units themselves are also surprisingly affordable, although there is a fairly wide range in prices between budget and top-quality models. The size of the unit, the burner capacity, and the materials used (which can include anything from tempered glass to stainless or powder-coated steel) will all impact on the cost, but in general terms, they don't cost the earth.
The cost of running bio ethanol fireplaces is also reasonable. It does depend on the size of the burner, the size of the space they're heating, and the ambient room temperature, but you can usually heat a room all evening for a few dollars worth of fuel. They are generally not more expensive than other types of heating, but even in instances where they do cost more, it's worth it – because you're paying to heat your home using a renewable resource, instead of with your electricity supply.
---
They're so hot right now
Even if you're not convinced by their many other advantages, you'll have a hard time ignoring the designer style that bio ethanol fireplaces offer.
If you've been watching the best renovation programs or keeping an eye on the latest interior trends, you'll know that there are some truly stunning designs available, and that bio ethanol fireplaces offer a unique and functional centrepiece to contemporary homes that simply can't be achieved with a traditional fireplace. With a bio ethanol fireplace, there are no aesthetic limitations, and no ugly functional compromises.
At Ambience Eco Fires, we combine the innovation of German design, the beauty of natural elements, and the best secrets of modern technology to craft fireplaces with the level of functional beauty that dream homes are made of. Contact us for more information on any of our designs, and we'll be happy to show you the many ways you can warm your home with a little ambience from an eco fire.